​

Jan 16
Bunch Contribution Supports President George W. Bush Honors Program at Lone Star Legends Benefit Dinner
THE WOODLANDS, TX, JAN. 16, 2015 – Michelle and Gordy Bunch will host a "Gift-of-Giving" table at the Lone Star Legends Benefit Dinner honoring special guest, the 43rd President of the United States, George W. Bush, who will be present with his wife, Laura Bush. The event is the third annual dinner and discussion with a "Lone Star Legend," sponsored by the Texas Southeast Division of the Insurance Industry Charitable Foundation (IICF) to be held this year at the Omni Hotel in Dallas on February 5.
With gift levels ranging from $10,000 to $50,000, major sponsors, such as the Bunch's, will begin the evening with a cocktail reception followed by dinner and an intimate discussion with President Bush.
The IICF special invitation states that the insurance industry group, of which Bunch is a recognized leader, has "the privilege of honoring President Bush for his leadership and service to our country and his tremendous efforts in global and philanthropic initiatives. The Insurance Industry Charitable Foundation helps communities and enriches lives by combining the collective strengths of the industry to provide grants, volunteer service and leadership. The Foundation exists to provide and generate support for designated charitable organizations that help meet critical community needs and to reinvest funds in the communities from which they are raised. The 2015 effort will be focused on charities that provide services for Children, Education, and Veterans."
Gordy Bunch is founder, president and CEO, of The Woodlands Financial Group whose Woodlands-based TWFG insurance services division was recently ranked 8th of 38,000 agencies in the United States and first in personal lines premiums in Texas. He is also a member of the Board of Directors and Treasurer of The Woodlands Township Board of Directors and Chairman of The Woodlands Township Convention and Visitors Bureau.
For further Media Information:
Gordy Bunch – gordy@twfg.com: 281-466-1123 / 713-416-0789
Paul Lazzaro – plazzaro@comcast.net: 281-728-5704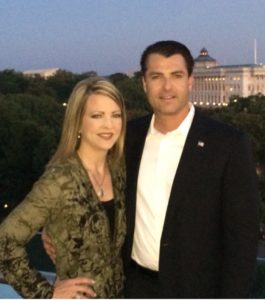 Michelle and Gordy Bunch
< Back to Press Releases Page