​

Jul 03
Profile Richard "Gordy" Bunch III
How do you build an Entrepreneur Of The Year? Nurture him in the warm California sun? Plant his family roots in Texas, a land of uncommon opportunity? Teach him how to face adversity protecting our country in the United States Coast Guard? If this is the formula for success, it would help to explain Richard "Gordy" Bunch III and the remarkable achievements he is scoring in his business career and community service. Certainly, his background, experience, and commitment to do the right thing are the guiding force in his life and the key to building a unique and successful professional career.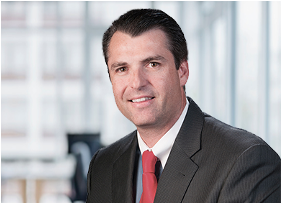 In 2015, he was named the EY Gulf Coast Entrepreneur of the Year for Products and Services. With more than 20 years of experience in the insurance industry, Bunch manages a rapidly-expanding national company as founder, president and CEO of The Woodlands Financial Group (TWFG). He says he learned while serving in the Coast Guard that the best leaders were those who empowered others to achieve great things. "We rise by lifting others." The very foundation of TWFG has been built on this philosophy, and has been paramount to its culture and growth. "Put your ego and fears aside, and hire others that are stronger, smarter, more creative, more inspired and more innovative than you are. Trust them, and trust yourself, that in working together, anything is possible."
His business acumen surfaced as a teenager when he became a manager of Little Caesars and then a McDonald's restaurant in College Station, TX. At the onset of the first Gulf War, Gordy, age 19, drove with a friend to San Diego where they volunteered for active duty in the U.S. Coast Guard. During his four years of service he was commended for helping to innovate purchasing and inventory systems for his Coast Guard unit's supply methods.
In 2001, he launched TWFG, his insurance and financial services company in The Woodlands, TX, with $10,000 capital and an innovative business model that combines both wholesale and retail products to take advantage of new product opportunities to benefit both customers and agents. Today, TWFG is in the Top Ten of the nation's 38,000 privately-held Property/Casualty agencies with more than $337 million in premium sales and ranks as the largest Personal Lines leader in Texas. More than 300-plus TWFG retail branches operate in 21 states while affiliations with 3,000 independent agents serve 38 states. The company writes policies in 49 U.S. states from its headquarters in The Woodlands. Driven by his personal pledge and promise, "Our Policy is Caring," from TWFG into all business ventures, he is especially proud to have been honored as a national award winner by FEMA in the National Flood Insurance Program. His newest venture, The Woodlands Insurance Company (TWICO) is now in its launch phase as an insurance carrier and another leap of faith driving a journey to reach one billion dollars in sales for The Woodlands Financial Group of companies.
Bunch was elected to the board of directors of his local government in 2012 and re-elected unopposed in 2014. The Woodlands Township is a master-planned community of more than 110,000 people and 2,000 businesses, as well as a shopping and tourism mecca. He has been instrumental in consistently lowering taxes for residents, setting a rate that is one of the lowest in Montgomery County, Texas. His board elected him its Treasurer and The Woodlands Convention & Visitors Bureau board named him its Chairman in January, 2014.
Gordy and his wife, Michelle, have been residents of The Woodlands since 1995 where they are raising three young boys while sponsoring and participating in multiple community organizations. As an IronMan participant and sponsor, Gordy believes in physical fitness so TWFG sponsors the Gran Fondo bicycle race along with the Muddy Trails Bash for kids, the Muscular Dystrophy Association, the Susan G. Breast Cancer Foundation, Toys for Tots, Texas A&M University, Interfaith, The Women's Center, the United Methodist Church of The Woodlands and multiple service organizations.
< Back to Press Releases Page