​

Dec 05
A Company that Observes its Slogan Beyond Business
"Our Policy is Caring" Is emblazoned on hundreds of thousands of communications, collateral materials, and signage, through more than 300 TWFG branches across 38 states of America. That philosophy of caring, fostered by a loving Texas family named Bunch, instinctively applied it to business customers and then naturally extended it to its charitable giving by The Woodlands Financial Group. TWFG is number one in personal lines in Texas and high in Insurance Journal's Top 100 rankings. Its growth has been achieved through more than 300 branches and close to 3,000 independent affiliates by founder and CEO, Gordy Bunch.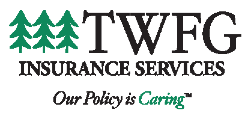 Gordy and his management team decided several years ago that giving is an obligation for everyone in a company whose sole purpose for existence is to help others live a care-free and fruitful life. The unfortunate people who have little of the creature comforts of life, as well as those lucky enough to be considered upscale, all have needs. That is why the TWFG charitable giving program supports all levels and needs with focused special theme days and special events. A recent example from TWFG headquarters personnel in The Woodlands, Texas chose a cause closest to their hearts. In recognition of Domestic Violence Awareness Month, the entire staff was encouraged to wear purple and purchase a "No Excuse for Abuse" two-dollar purple silicon bracelet as a donation. More than 50 of the bracelets were purchased at an average of $20 each, which was then matched by TWFG.
As a four-year veteran of the U.S. Coast Guard, Gordy Bunch takes a special interest in caring for our veterans – especially those who were injured while protecting our country. "Operation Military Embrace" was the theme for Veterans Day as boxes of items donated by employees and deposited in a collection box at headquarters were sent to Military Medical Center and the Care Package Mission. This Christmas season, TWFG partnered with the YMCA's "Community Angel" program to meet the needs of those families and children in need for ways to realize a happy holiday. An oversize decorated box is placed prominently at the main entrance to TWFG headquarters where employees, guests, and clients are all reminded to drop in an unwrapped toy for children ages birth to 15.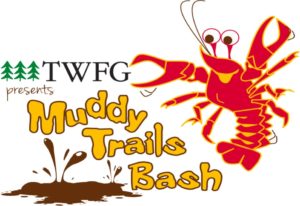 But, TWFG's giving also moves well beyond the confines of its offices. Texas-size special events for thousands of participants enjoy the carefully planned and financed TWFG programs. Sponsorships of competitions and interactive play demonstrate TWFG's focus on "Fitness and Fun." –  "Kids and mud go together," Gordy Bunch said as he signed a three-year agreement for The Woodlands Financial Group to be title sponsor of the popular Muddy Trails Bash in The Woodlands. The event features a 5K and 10K run, plus a Little Muddy Kids one-mile run and a 2K-9 Fun Run so that even the family dog can participate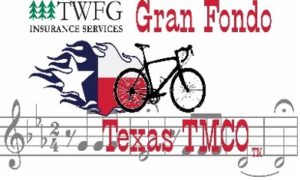 TWFG kick starts the TWFG Insurance Services Gran Fondo Texas charity bike ride which has resulted in the largest-ever donation to the Texas Medical Center Orchestra and the National Multiple Sclerosis Society. On Sunday evening at a TMCO concert checks were presented to the two charities totaling $74,000.
The TWFG Insurance Services Gran Fondo: Texas TMCO™ is a bicycle ride and race that is a recommended ride for the BP MS150 which will be conducted two weeks later. The ride will offer routes of 94, 69, 47, and 12 miles.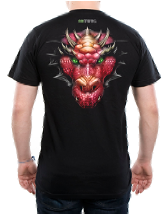 The complete list of charities benefited by TWFG's involvement is literally too long to report the involvement on each one, which almost always go beyond simple cash contributions. They cover the gamut of giving and caring within the community on up to national levels from Gordy finishing the Iron Man triathlon to a team of employees rowing across Lake Woodlands in the YMCA Dragon Boat Races
Among the others are:
> American Heart Association
> YoungLife
> YMCA
> Muddy Trails Bash
> The Woodlands Marathon
> Habitat for Humanity
> Montgomery County Women's Shelter
> American Cancer Society
> The Woodlands Ice Rink
> Gran Fondo Bike Ride (MS Society)
> Leaping Butterfly
> St. Baldrick's Foundation
> Special Angels of The Woodlands
> Interfaith of The Woodlands
> JROTC Foundation
> Teen Missions
> Susan G Komen
> Run Through The Woods
Probably one of the favorites of Gordy and his wife, Michelle, who also takes a personal and active interest in TWFG addressing the needs and fitness of its various communities, is the one pictured below. Donations from the Bunch and TWFG employee families collected numerous outgrown bikes, tricycles, and scooters for children at Montgomery County Women's Center's Reaching Pines transitional housing apartments. Children and mothers' residing at Reaching Pines "safe refuge" apartments for battered women have few recreational toys so they specifically asked for bicycle donations. TWFG answered the call once again. What makes this cause even more meaningful is the fact that the families may stay in transition apartments for up to two years and then when the family is ready to return to general society, the kids get to take their bikes and familiar apartment furnishings to their new permanent residence.
TWFG is a family company that considers its more than 250,000 direct and affiliated policyholders as their extended family and applies its slogan to one and all: TWFG says it over and over and over and then practices what it preaches: "Our Policy is Caring."
< Back to Press Releases Page